Blockgum Mobile Client
Blockgum Mobile Client is easy way to manage your EVM Chains Server daemon. You can do connect with all chains[Yes all EVM Chains] , Track deposits/ Withdrawals/Tokens and make requests.
It comes with Server app Shutdown or Restart interface too.
Get started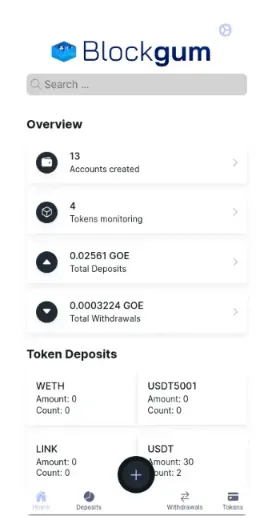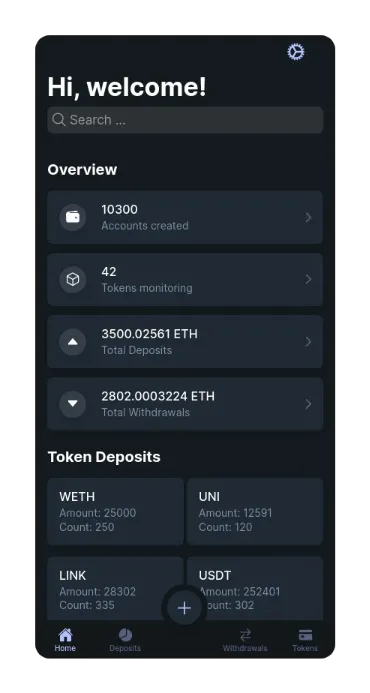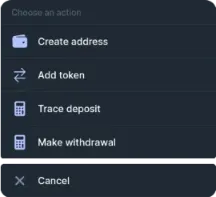 Simply install blockgum application on your server and start Creating 4+ Billion addresses ,Detect Deposits , Process withdrawals and many more. You can monitor your Server Application using Mobile client.
Where BlockGum can be used?
Be it Stores supporting crypto payments, Wallet providers, Crypto Exchanges , ICO/IEOs or People using Ethereum Web3 , Geth or Moralis.
Can it be connected to existing platform ?
Yes, 100% . BlockGum comes with REST APIs that can be connected to any server or client side app. We provide complete Blockgum documentation
Do you have solution to detect ERC20 and Mainnet deposits?
Yes , Blockgum is out of the box solution to generate Unique addresses for each of your customers , track their deposits and withdraw them as per your requirement. Its powered with various other tools that allows you to move your deposits to main account automatically. Sending Gas fees from Main account to user accounts is also part of features.
Blockgum is 100% secure system with Various level of encryptions and firewalls. It uses JWT token system for api connectivity.
EVM Aka Ethereum Virtual Machine which is computational environment that can execute smart contract, store & intract with them. EVM saves such event of Deposit , Transfer , Balance etc on blocks.
What EVM Chains are supported?
There are over 378 mainnet and 300 testnets supported by Blockgum. Including ETH , Matic , BNB , Avax ,FTM , MOVR, CRO , HT ,TOMO , KLAY Supported EVM Chains
How to support a Private network or Custom New EVM Network?
You can easily support any EVM network , Simply add its RPC [HTTP/WSS] in chains.json and you are ready to go.
Does blockgum.com know about my server , public key , private key or track my deposits?
No, BlockGum is independant server application , That does not share any information with us or anyone else.
How long does it take to setup Blockgum Node Server?
It is done in very few steps and as quick as an hour max.
Run our installation tool on your Ubuntu V18/20/22 server.
Change Config a few lines ie and generate LICREQ code.
Enter LICREQ code on Blockgum Dashboard and save your Blockgum license to server config.
You are ready to go.
Do you provide custom work?
We are loaded with highly efficient development team including system architects. We are available for custom work or services too Get in touch
Comprehensive features for Blockchains
Use Blockgum for its powerful features ,Save time , money and be ahead. Faster and smarter solution for web3 EVM chains.
Wallet to Supported EVM Chains and Networks

XDAI

HOO

AVAX

BNB

CANTO

CELO

ETH

FTM

MOVR

HT

MATIC

AllChains
© 2023 BlockGum.com All rights reserved. [Last Updated:12-03-2023]